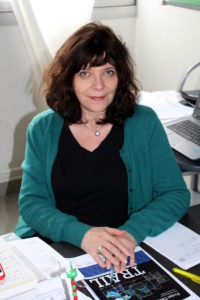 Surname/ name Sylvie Crauste-Manciet, PharmD, PhD, PU-PH, University Professor & Hospital Pharmacist
Email sylvie.crauste-manciet@u-bordeaux.fr   sylvie.crauste-manciet@chu-bordeaux.fr
Bio
Sylvie Crauste-Manciet obtained her degree in Pharmacy (PharmD) in 1993, her PhD in 1997 and accreditation to supervise research (HDR) in 2013 from the University of Paris Descartes, France. Until 2014 she combined hospital pharmacy as the head of the centralized production unit in Saint-Germain-en-Laye hospital and academic activities as an associate professor in pharmaceutical technology and researcher in nanosystems in UPCGI Laboratory, UMR 8151 CNRS- U1022 INSERM. Paris Descartes University, Faculty of pharmacy, France.
In September 2014, she moved to University hospital of Bordeaux where she is head of the department of pharmaceutical technologies for preparation of sterile and not sterile drugs for hospitalized patients e.g. cytotoxic drugs, parenteral nutrition, paediatric capsules. In combination, she is Professor of pharmaceutical technology at the University of Bordeaux, where she develops her research on design and characterisation of nanosystems in laboratory ARNA, ChemBioPharm team, INSERM U1212 UMR 5320 CNRS. At Bordeaux University she created in 2016 a master's programme dedicated for research on hospital pharmaceutical technology. (Master 2 Sciences Pharmaceutiques et Pharmacotechnie Hospitalière-option pharmacotechnie hospitalière- Université de Bordeaux)
Since 1998, she is the president of Group for Evaluation and Research on Protection in Areas under Control (GERPAC) which is an association of European hospital pharmacists involved in the research and development of hospital preparations.
Education
Pharm D in October 1993, University of Paris Descartes, France.
PhD. in Pharmaceutical Technology October 1997, University of Paris Descartes, France.
Accreditation to supervise research (HDR) April 2013, University of Paris Descartes, France.
Research
She developed for many years smart nanovesicular systems (nanoemulsions, spherulites) for therapeutic and/or for imaging. Key results of the nanosystems developed showed significant impact for therapeutics (i.e. protection of drugs against enzymatic attack, biodistribution improvement by oral route) and for imaging (contrast improvement for MRI). Her current axes of research on nanosystems are the design and characterisation of:
– nanoemulsion platform for targeting and imaging atheroma plaque by MRI and MPI,
– nucleolipid based nanovesicular systems targeting brain for neurodegenerative disease.
– bioinspired supramolecular hydrogels for 3 D bioprinting for the construction of a vascular niche for human hematopoietic stem cells.
Expertise
– ANSM French National Agency for Medicines and Health Products Safety (CSST Révision des bonnes pratiques de préparation) since 2016
– HCSP French High Council on Public Health Haut Conseil de la Santé Publique (2007-2011)
– GERPAC (Group of Evaluation and Research for Protection in Aeras under Control) Chairwomen of the Board of Directors since 1998
– Co-editor: "Pharmaceutical Technology in Hospital Pharmacy" journal
– Editorial board member: Journal of Oncology Pharmacy Practice
– Reviewer for Annals of Occupational Hygiene; Pharmaceutical Research; European Journal of Pharmaceutical Sciences ; Pharmaceutical Technology in Hospital Pharmacy ; American Journal of Health-System Pharmacy ; Journal of Pharmacy and Pharmacology ; Journal of Oncology Pharmacy Practice
– Scientific committee member GERPAC since 1998, ASPEC since 2001, HOPIPHARM since 2002, SFNEP (2003-2011)
Patents
Lazerges M., Espeau P., Crauste-Manciet S., Brossard D., Corvis Y., Agnely F., Huang N .- Topical emulsiosn based on mixtures of local eutectic anaesthetics and fatty acids as analagesic, antalgics, or as sexual retardants. FR2983731 2015 – United States Patent and Trademark Office Pre-Granted Publication N°US2015/0105426 / 2014 – European Patent Application N° EP2787976/ 2013 – Patent Cooperation Treaty Application N°WO/2013083910
Brossard D., Crauste-Manciet S., Muhamed S., Odou P. Blanco-Pietro M, Ander Estella-Hermoso de Mendoza. Method for maling a formulation and use thereof for administering polar drugs. FR2939698 ― 2010- Patent Cooperation Treaty Application N°WO/2010067035
Recent publications on nanoformulation research
– Prévot G, Kauss T, Lorenzato C, Gaubert A, Larivière M, Baillet J, Laroche-Traineau J, Jacobin-Valat MJ, Adumeau L, Mornet S, Barthélémy P, Duonor-Cérutti M, Clofent-Sanchez G, Crauste-Manciet S. Iron oxide core oil-in-water nanoemulsion as tracer for atherosclerosis MPI and MRI imaging. Int J Pharm. 2017, S0378-5173(17)30856-6. doi: 10.1016/j.ijpharm.2017.09.010.
– Sigward E, Corvis Y, Doan B-T, Kindsiko K; Seguin J, Scherman D, Brossard D, Mignet N, Espeau P, Crauste-Manciet S. Preparation and evaluation of multiple nanoemulsions containing gadolinium (III) chelate as a potential magnetic resonance imaging (MRI) contrast agent. Pharm Res, 2015, 32(9) 2983-2994. DOI: 10.1007/s11095-015-1680-8.
– Crauste-Manciet S., Kawhand K, Mignet N. Spherulites: onion-like vesicles as nanomedicine. review. Ther Deliv. 2015, 6(12)1377-1385.
– Doan B-T, Crauste-Manciet S, Bourgaux C, Dhotel H, Jugé L, Brossard D, Scherman D, Bessodes M, Cuenod C-A Mignet A. Lipidic spherulites as magnetic resonance imaging contrast agents. New J. Chem., 2014, 38(11), 5190-5197. DOI: 10.1039/C4NJ00571F.
– Crauste-Manciet S, Larquet E., Kahwand K, Bessodes M, Chabot G, Brossard D, Mignet N. Lipidic Spherulites :formulation optimisation by paired optical and cryoelectron microscopy. Eur J Pharm Biopharm, 2013, 85 (3):1088-1094
– Sigward E, Mignet N, Rat P, Dutot M , Muhamed S , Guigner J –M , Scherman D , Brossard D, Crauste-Manciet S. Formulation and cytotoxicity evaluation of new self-emulsifying multiple W/O/W nanoemulsions. Int J Nanomedicine, 2013, 8:611-625
Book & book chapters
– A. Le Hir, J.-C. Chaumeil, D. Brossard, C. Charrueau, S. Crauste-Manciet. Pharmacie galénique–Bonnes pratiques de fabrication de médicaments Ed. Elsevier 10/2016. 424 pp. ISBN: 9782294743955
– Bouwman-Boer, Y., Ng, S. W., Crauste-Manciet, S. Occupational Safety and Health. In Practical Pharmaceutics (pp. 551-584). Ed. Springer. 2015, ISBN 978-3-319-15813-6.
– Crauste-Manciet S. Meyer D. Présidents commission. Les Isolateurs : Qualification et maintenance. Ed ASPEC 2015, 175pp.ISBN 978-2-910218-19-5
Current Grants
Coordinator: Labex TRAIL: NanoEmulsion Platform for Magnetic Particle Imaging (NEP-MIP)
Labex TRAIL :NanoEmulsion for Magnetic Hyperthermia in Oncology (NEMHO)
Partner : Labex Trail Smart multimodal nanoprobes for MRI/MPI/NIRF imaging with magneto/optical contrast agents for atheroma plaque targeting NANOMULTIMAG
Fondation de France : Restoration of lysosomal impairment in Parkinson's disease models by acidic nanoformulation HELP